Ancient Formulas - Natural Cares For You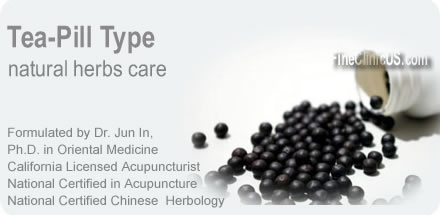 Pill Type - Traditional Intake Type
A traditional way to prepare the herbal medicine. These are small, usually black, pills that are widely available from practitioners and health food stores. Usually one takes about 5-10 pills three times a day. Each bottle usually lasts about one week.
Convenient and inexpensive. They can treat general symptoms many times without requiring a practitioner¡¯s sophisticated diagnosis, such as indigestion, allergies, or other minor complaints.
Relatively weak in potency and not suitable for serious problems. They generally work for symtomatic relief only, and rarely can resolve long-term significant problems.
Formulas
Description (200pills/bottle)
Price
Stomach Cleanser
Tea-pill types of herbal formula for 7 days.
$25
Stress Reliever
Tea-pill types of herbal formula for 7 days.
$25
Nervousness Formula
Tea-pill types of herbal formula for 7 days.
$25
Cold Reliever
Tea-pill types of herbal formula for 7 days.
$25
Allergy Formula
Tea-pill types of herbal formula for 7 days.
$25
Sciatica Reliever
Tea-pill types of herbal formula for 7 days.
$25
Backache Reliever
Tea-pill types of herbal formula for 7 days.
$25
Knee Stronger
Tea-pill types of herbal formula for 7 days.
$25