FORMULAS - Natural Cares For You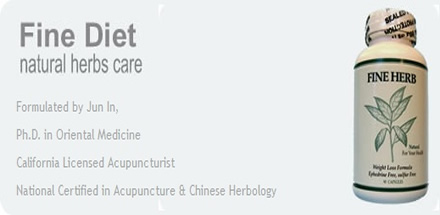 Fine Diet Formula™ (Capsule Type)
Fine Diet Formula™
Price: $45 for one month
Each concentrated 500mg capsule contains the equivalent of crude herbs in the amount of 2500mg.

HERBAL CONTENTS
Job's Tears Seed
Laminaria Japonica Herbs
Elshooltzia Herb
Magnolia Bark
Solomon's Seal
Processed Pinellia Rhizome
Bitter Orange Fruit
Agastache / Pogostemon Herb
Shiny Buglewood Herb
Duckweed Herb
Cassia Angustifolia Leaf…
Fine Fat Tea™ is a dietary supplement made from concentrated herbal granules to promote general health and well being.

— Weight Loss Formula
— Ephedrine Free
— Sulfur Free
— Chlorine Free
— Full spectrum Concentrate
SUGGESTED USE: Take three or four capsules daily before meals.