Ancient Formulas - Natural Cares For You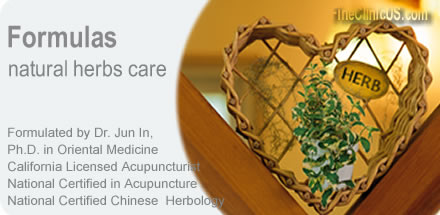 Formulas by FineClinicUS.com
For over 10 years, our patients have entrusted Fine Acupuncture & Herbs Clinic providing the highest quality herb prescriptions.
When it comes to choosing an herbal medicine for our practice, effectiveness and safety is of the utmost importance.
| Liquid Type | Capsule Type | Pill Type |
| --- | --- | --- |
| Immnue Formula | Fine Diet Formula | Stomach Cleanser |
| Fine Tonic Formula | Fine Stomach Formula | Stress Reliever |
| Detox Formula | Fine Allergy Formula | Nervousness Formula |
| Circulation Formula | Fine Stress Forumla | Cold Reliever |
| Fine Fat Tea | Fine HBP Formula | Knee Stronger |
| Fine Cough Syrup | Fine UTI Formula | Leg Circulation |
| Fine Cholesterol | Fine Cholesterol | Sciatica Reliever |
| Fine Menopause | Fine Spirit Formula | Backache Enhancer |
Eastern Herbal Medicine
Eastern herbal medicine and acupuncture are complimentary therapeutic modalities that are often used together in the treatment of a varitey of medical conditions.
In order to create the most effective formula, the herbs are used in different quantities and for different purposes. This allows the herbalist to create a formula aimed at addressing individual needs.
The art and skill of creating a formula lies within choosing the precise and most effective herbs that target an individuals disharmony.
It is important work with a qualified herbalist who can prescribe the correct formula, monitor progress and adjust it as needed.
Eastern herbal medicine can be prescribed in a number of methods;
raw herbs that are boiled into a tea
powders or granules in the capsule form
pill form
The liquid type of herbs are the choice method for prescribing medicinals. They are the most effective, fast acting, quality assured, and reliable method. However all methods have their merits and drawbacks, and consequently their time and place.
Eastern herbal medicine is a safe, effective and drug0free way to become well and stay healthy, naturally!