FORMULAS - Natural Cares For You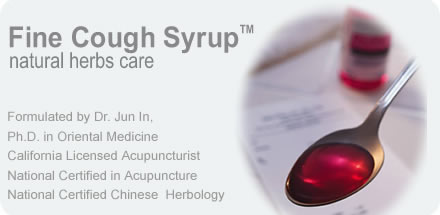 Fine Cough Syrup™ (Liquid Type)
Fine Cough Syrup™
Price: $40 for 16 Fl.Oz. Bottle
Honey Based of Herbal Extracts. Soothes & Protects a Sore Throat & Coughing. Contains no preservatives or sugar.
INGREDENTS
Elm Bark
Loquat Leaf
Ballon Flower Root
Ginger Root
Five Flavored Seed
Peppermint…
Fine Cough Syrup™ is a dietary supplement made from organic products to promote general health and well being.

— Cough,
— Sore Throat,
— Ahthma.
SUGGESTED USE: Take two spoons every two hours.