FORMULAS - Natural Cares For You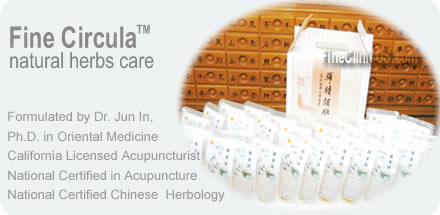 Fine Circulation Formula™ (Liquid Type)
Fine Circulation Formula™
Price: $250 for 30 individual tea bags
Extracted Herbal Decoction. Highly concentrated herbs in 30 individual tea bags.
HERBAL CONTENTS
Chinese Salvia Root
Dong Quai Root
Cassia Twig
Chinese Peony Root
Honey Roasted Licorice
Poria
Tree Peony Root
Peach Seed
Dried Rind of Mature Tangerine Fruit
A Formula to Promote Circulation & Dispel Blood Stasis
Ephedrine Free
Sulfur Free
Chlorine Free
Full Spectrum Concentrate
SUGGESTED USE: Take two times daily before meals.