FORMULAS - Natural Cares For You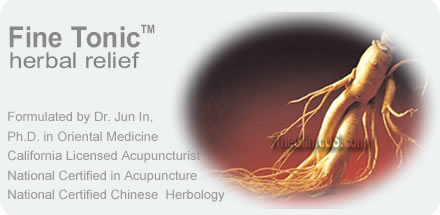 Fine Tonic Formula™ (Liquid Type)
Fine Tonic Formula™
Price: $300 for 30 individual tea bags
Extracted Herbal Decoction. Highly concentrated herbs in 30 individual tea bags.
HERBAL CONTENTS
Korean Ginseng (4 years age of roots)
Dong Quai Root (Products of Korea)
Astragalus Root (Products of Korea)
Szechuan Lovage Root (Products of Japan)
Jujube Fruit & Ginger…
Fine Tonic Formula™ can treat a wide variety of symptoms while stimulating the body's natural healing process. It has been practiced safety and effectively for centuries. The formula is highly individualized and depends on specific characteristics of the patient being treated.

— Ephedrine Free
— Sulfur Free
— Chlorine Free
— Full Spectrum Concentrate
SUGGESTED USE: Take two times daily before meals.